Sony can try, but they will never be as quick as the people on the Playstation.com message boards are.
Earlier today, on SOCOM.com, David Brothers made a new
blog post about the radial weapon selection menu
but that wasn't the thing the boards went crazy over. It was the fact that in the original image that was posted, it clearly said "Private Beta" in the top left corner. Take a look for yourself at the original image that was posted: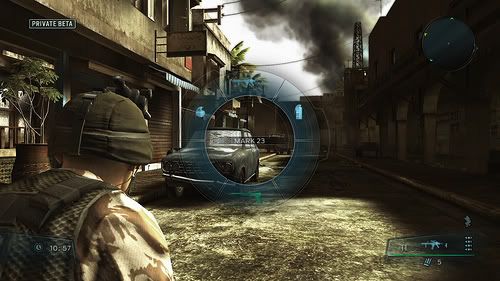 Now take a look at the photoshopped image that it was replaced with soon after:
"Private Beta" is missing. I don't know why they even bothered as by the time they corrected it, people on the boards were already going crazy, saying that the private beta had to be out and getting all pissed they weren't in it.
Well sorry folks, as Abigale cleared up for all you later, the Private Beta is NOT out. Yes, the image clearly said "Private Beta" in the top corner, but that does not mean it was sent out to anyone outside of Sony and Slant Six. Here is Abigale's post:



Ok, ok, here's the deal. Beta has not started yet but as you were able to see from the tag on that shot, we are definitely working towards that. The shot went up, someone noticed that it said Private Beta and thought that would get everyone thinking that it had already started. So they pulled it down and removed that part.

If I had known they were going to do that, I would have let them know that it was already too late. I know you guys well enough to know that if something is up there for 2 seconds, one (or more) of you will find it and repost it!

So... sorry for the confusion and rest easy for now. Beta is around the corner but it hasn't started yet. All of this speculation is just what we wanted to avoid by removing the Private Beta tag. We just didn't do it fast enough!
So there you have it. The Private Beta has NOT been sent out yet.